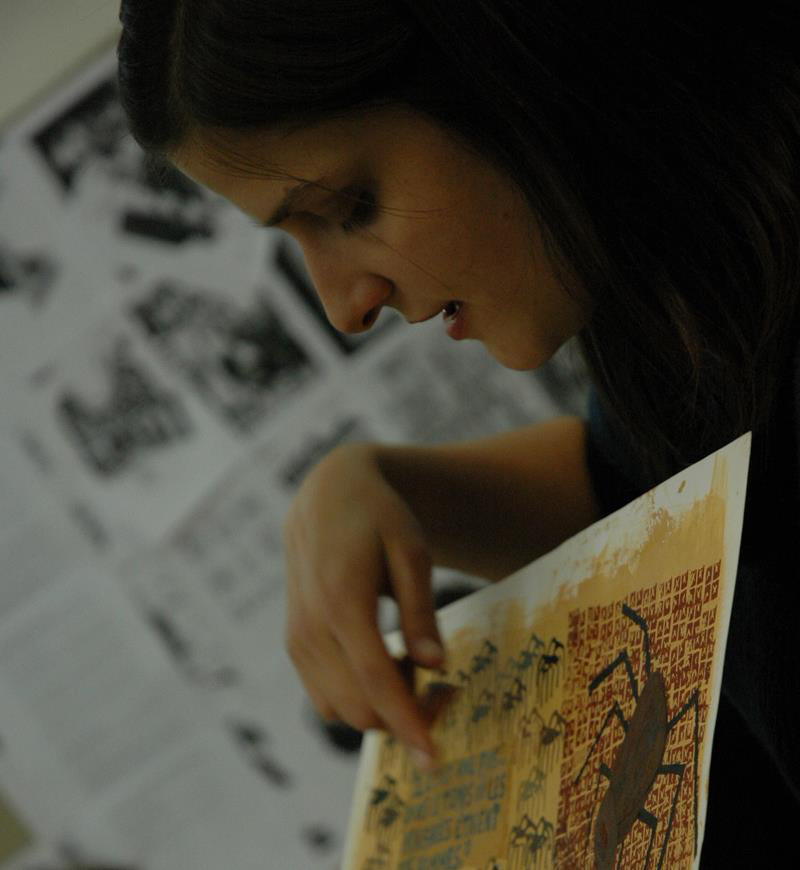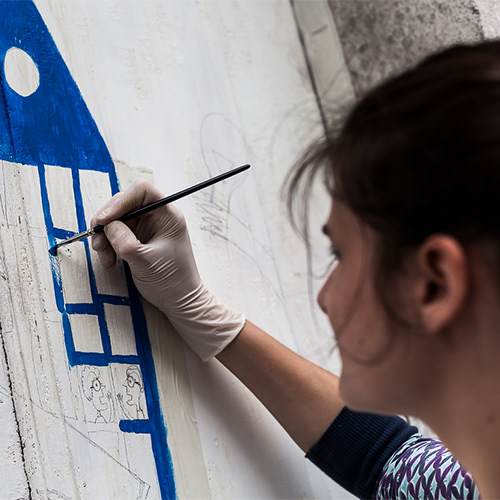 Hello! My name is Mariana Rio. I'm a happy, independent Illustrator, based in Oporto, Portugal. I'm always eager to learn and to share! 

I graduated in Communication Design by the Faculty of Fine Arts, University of Oporto (2008). I also studied at the Academy of Fine Arts of Wroclaw. 

I'm an infinite curious being, who's goal is to learn and progress every day, in every project. I am determined to make people who work with me happy and successful. 
Nowadays, I'm happy to spend my days creating illustrations, characters and visual narratives for publishing houses, design studios and companies in many positions of the planet. 

My work was featured by the Bologna Children's Book Fair Illustrators Exhibition in 2018 & 2013, Nami Island International Picture Book Illustration Competition Seoul, 3x3 The Magazine of Contemporary Illustration, CJ Picture Book Awards and the Portuguese National Illustration Prize, among others.
Education
- BFA Communication Design, Faculty of Fine Arts (FBAUP), Oporto University. Portugal 
- Erasmus Program. Academy of Fine Arts of Wroclaw (ASP Wrocalw). Poland 
Books 
- Vamos descobrir a Biblioteca Nacional de Portugal, text Luísa Ducla Soares. INCM (2019)
- A casa da doutora Farnsworth, text Joana Couceiro. Circo de Ideias (2018)
- A construção do Mundo, text Fábio Monteiro. Livros Horizonte (2018)
- Memórias Póstumas de Brás Cubas, text Machado de Assis. Sexto Piso (2018)
- Padova a testa in su, text Leopoldo Benacchio, et al. Bas Bleu Illustration (2018)
- A casa do senhor Malaparte, text Joana Couceiro. Circo de Ideias (2015)
- O Quebra-cabeças, text Helena Carvalho. Edições Eterogémeas (2012)
Books co-author 
​- Calendario Revolucionario - Laico y Universal. Milrazones (2015)
- Invasão da Casa Andresen - Animais de Museu. Edições Eterogémeas (2014)
- 2012 Mãos à obra, text Eugénio Roda, 53 illustrators, Edições Eterogémeas (2011)
- 2010 Formas de Ser Estar, text Eugénio Roda, 53 illustrators, Edições Eterogémeas (2009)
- 2009 Mundos a Céu Aberto, text Eugénio Roda, 53 illustrators, Edições Eterogémeas (2008)
Clients include
Bas Bleu Illustration, B Eat, Casa da Música, Circo de Ideias, Edições Eterogémeas, Editorial Milrazones, Illusalon, Imprensa Nacional Casa da Moeda, Pato Lógico, Mistaker Maker, O Beija-flor, Sacoor Brothers, Sexto Piso Editorial, Slanted, SoDa Repors, Studio Dobra, UPTEC
Recognition (selection)
- White Ravens catalogue (2019)
- Acquisition Prize, BIG Guimarães (2019)
- Mention, Portuguese National Illustration Prize (2018)
- Selected, Bologna Children's Book Fair Illustrators Exhibition (2018 and 2013)
- Shortlisted, The AOI World Illustration Awards, London (2016)
- Jury Distinction, Portuguese National Illustration Award (2015 and 2013)
- Honourable mention, ProShow, 3x3 The Magazine of Contemporary Illustration, NY (2015)
- Shortlisted, Nami Concours - Nami Island International Picture Book Illustration Competition, Seoul (2015)
- Selected, 200 Best Illustrators worldwide 2013/2014, Lürzer's Archive, Vienna (2014)
- Honourable mention, ProShow, 3x3 The Magazine of Contemporary Illustration, NY (2014)
- Merit, Children's Illustration ProShow Annual, 3x3 The Magazine of Contemporary Illustration, NY (2012)
- Selected, 100 Books for the Future, Bologna Children´s Book Fair Guest Country Exhibition (2012)
- Selected, Grammar of Figures, Bologna Children´s Book Fair (2010)
- Finalist, CJ Picture Book Awards, Cj Cultural Foundation, Seoul (2010)
Collective Exhibitions (selection)
- BIG Guimarães. Acquisition Prize. Guimarães (2019)
- Prémio Nacional de Ilustração. FOLIO. Festival Literário. Óbidos (2019)
- 50 anos da obra de Luísa Ducla Soares, BNP, Lisboa (2019)
- My city, Ó! Galeria, Oporto and Lisbon (2019)
- Caruma, Instantes Mutantes (2019)
- All about your favourite Movie, Ó! Galeria, Oporto and Lisbon (2018)
- By the way life it's Wonderful, Pictoric, Kiev (2017)
- Festa da ilustração, Setubal (2017)
- Os Milagres da Santa, Circus Network, Guimarães (2017)
- Festa da ilustração, Setubal (2016)
- Nami Concours Winning Works Exhibition, Nami Island 닭갈비 사랑 메밀국시, South Korea (2015)
- Outro Modo de Ler - Illustration for Books in Portugal, Galeria Municipal Almeida Garrett, Oporto (2014)
- Ilustra 33, curated by Jorge Silva. XVI Festival Clube de Criativos de Portugal, IADE, Lisbon (2014)
- Bologna Children's Book Fair Illustrators Exhibition Tour in Japan - Itabashi Art Museum (Tokyo),
Otani Memorial Art Museum (Hyogo), Takahama Kawara Museum (Aichi), Ishikawa Nanao Art Museum (Ishikawa) (2013)
- Ilustra 33, curated by Jorge Silva. Creative Jam, XV Festival Clube de Criativos de Portugal, Lisbon (2013)
- Illustrators Exhibition, Bologna Children's Book Fair (2013)
- CJ Picture Book Awards, Cj Cultural Foundation, Seoul (2010)
- Illustra Teatro, Mostra Internazionale di Illustrazione per l'Infanzia di Sarmede, Vicenza (2010)
- 16th International Illustration Competition The Cannonball Lady, Venice (2010)
- Grammar of Figures, Bologna Children´s Book Fair (2011)
- CPAI Jovens Criadores, Évora (2010)
Solo Exhibitions
- A casa da doutora Farnsworth, Casa da Esquina, Coimbra (2019)
- A casa da doutora Farnsworth, Casa do Professor, Braga (2019)
- A casa da doutora Farnsworth, Circo de Ideias, Oporto (2019)
- A casa do senhor Malaparte, Biblioteca Municipal de Estarreja (2017)
- A casa do senhor Malaparte, Biblioteca Municipal de Serpa (2017)
- Imaginary Places. Ó! Galeria, Oporto (2015)
- A casa do senhor Malaparte. Livraria Circo de Ideias, Oporto (2015)
- Today's Thought - Flash Show. Ó! Galeria, Oporto (2014)
- Illustration Mariana Rio, Public Library, Gondomar (2014)
- O Quebra-Cabeças, Casa do Jardim do UPTEC PINC, Oporto (2013)
- Illustration Mariana Rio, Velhotes Bookstore, Gaia (2011)
- Illustration Mariana Rio, Sever do Vouga Public Library, Sever do Vouga (2011)
Press
- Atlântida, Revista de Cultura (2019)
- Slanted issue 34 (2019)
- A nossa PRIMA, issue 3  (2019)
- Slanted issue 27 (2016)
- 3x3 The Magazine of Contemporary Illustration, NY (2016)
- 3x3 The Magazine of Contemporary Illustration, NY (2014)
- DPI Design Popular Imagination Magazine, Art Quarter vol. 03. Taiwan. (2013)
- 3x3 The Magazine of Contemporary Illustration, NY (2012)
Teaching and lecturing
- Teacher, Illustration, ESAD Matosinhos (since 2018)
- Teacher, Picturebook, Illustration and Animation Post-graduation course, ESAD, Matosinhos (since 2018)
- Teacher, Illustration Summer School, Oporto (2018, 2019)
- Lecture, Illustration, Faculdade de Belas Artes da Universidade do Oporto (2017)
- Illustration course, We Came From Space, Gaia (2015)
- Workshop, 8º Encontro Internacional de Ilustração, S. João da Madeira (2015)
- Workshop and lecture, ENED, Universidade de Aveiro, Aveiro (2015)
- Lecture, Post-graduate Course in Illustration and Digital Animation, ESAD, Matosinhos (2014)
- Conference, O Quebra-Cabeças, the mental game in image reading according to the perspective of the illustrator. 10º Encontro Nacional de Investigação em Leitura, Literatura Infantil e Ilustração. Universidade do Minho. Braga (4th - 5th July 2014)
- Workshop "Illustration with stamps", Casa Nic e Inês, Lisboa (2014)
- Lecture, ESAD, Matosinhos (2013)
- Lecture and Illustration Workshop, XS Design Xpress, Universidade de Aveiro (2013)
- Juri (invited) - Master in Design and Visual Culture, project/thesis in illustration, IADE, Lisbon (2013)
- Lecture and Illustration Workshop, ESAD, Matosinhos (2013)
- Lecture, Lusófona University, Oporto (2012)
- Lecture and Illustration Workshop, ESAD, Matosinhos (2012)
With Children
- Atelier Sardinha, Silva Designers, Lisboa (2019)
- Illustration Workshop, Oficina Mescla,

Oporto

(2019)
- Stencil workshop, ESTAU, Estarreja (2016)
- Workshops "Illustration With Stamps", Casa da Cultura, Setúbal (2014)
- Workshops "Let's go Stamping in the Garden!", children 4-6 and 7-12 years old, UPTEC PINC,

Oporto

(2013)
- Workshops "Let's illustrate with Tangram!", children 4-6 and 7-12 years old, UPTEC PINC,

Oporto

(2013)
- Various presentations and workshops in Portuguese schools and libraries, children 4-12 years old
- Seminars in the Park, children 4-12 years old, City Park,

Oporto

(2006-2007)